Donate To Aid Afghan Refugees Being Forcibly Deported From Pakistan
On October 3, 2023, the Interior Minister of Pakistan, Sarfaraz Bugti, stated that all Afghan refugees in Pakistan without legal status should leave the country voluntarily by November 1, 2023, or they will face forced deportation. Bugti added that till October 2023, an estimated 1.7 million Afghans are residing in Pakistan with no legal documentation, declaring them as undocumented Afghans. The fear of forced deportation, abuse, mistreatment, arrest, and house-to-house search by the Pakistan police department had compelled around 140,000 Afghans to flee Pakistan before the deadline, which was declared as a voluntary exit of Afghans by many local and international authorities. However, from October 27 to 31, a large number of 7000+ Afghan refugees left Pakistan while more than 10,000 Afghans left their homes back in Pakistan on November 1st, 2023, through the Torkham and Chaman crossings, the two main Pak-Afghan borders. This has led many Afghan refugees returning from Pakistan in dire situations with no shelter, food, security and future. Thousands of Afghans are stuck at the two crossings awaiting for a safe exit by the local authorities of Pakistan.
In response to this devastating situation, the Aseel Do Good - DirectAid beta - has launched a new campaign, "Aiding the Afghan Returnees from Pakistan | Forced Deportation." The goal of the campaign is to offer immediate assistance to displaced families and maintain a record of their essential requirements.
What the Campaign Offers:
The aim of the campaign is to raise a substantial amount of 100,000 USD for the deported families suffering the intensifying impact of the Pakistani regulations. The fund raised from this campaign will be utilized to purchase emergency packages for these families. The package consists of the below items:
1: Welcome Kit for Afghan Returnees from Pakistan
Refugee Home Items: The package comprises personal hygiene needs such as bathing items, tissue papers, masks, toothpaste, and lotion. To keep comfortable in cold weather, families will be given winter items such as coats and stockings. In addition, each registered household is given a tent to use as a temporary shelter. The box also includes necessary kitchen items such as flour, beans, a gas cylinder, and a cooker, guaranteeing they can safely cook.
Toys for Kids: Children, often the most vulnerable in times of crisis, need support to cope with the challenges they face. The Welcome Kit includes toys for kids, helping them to forget their loss for some moment while playing with the toys.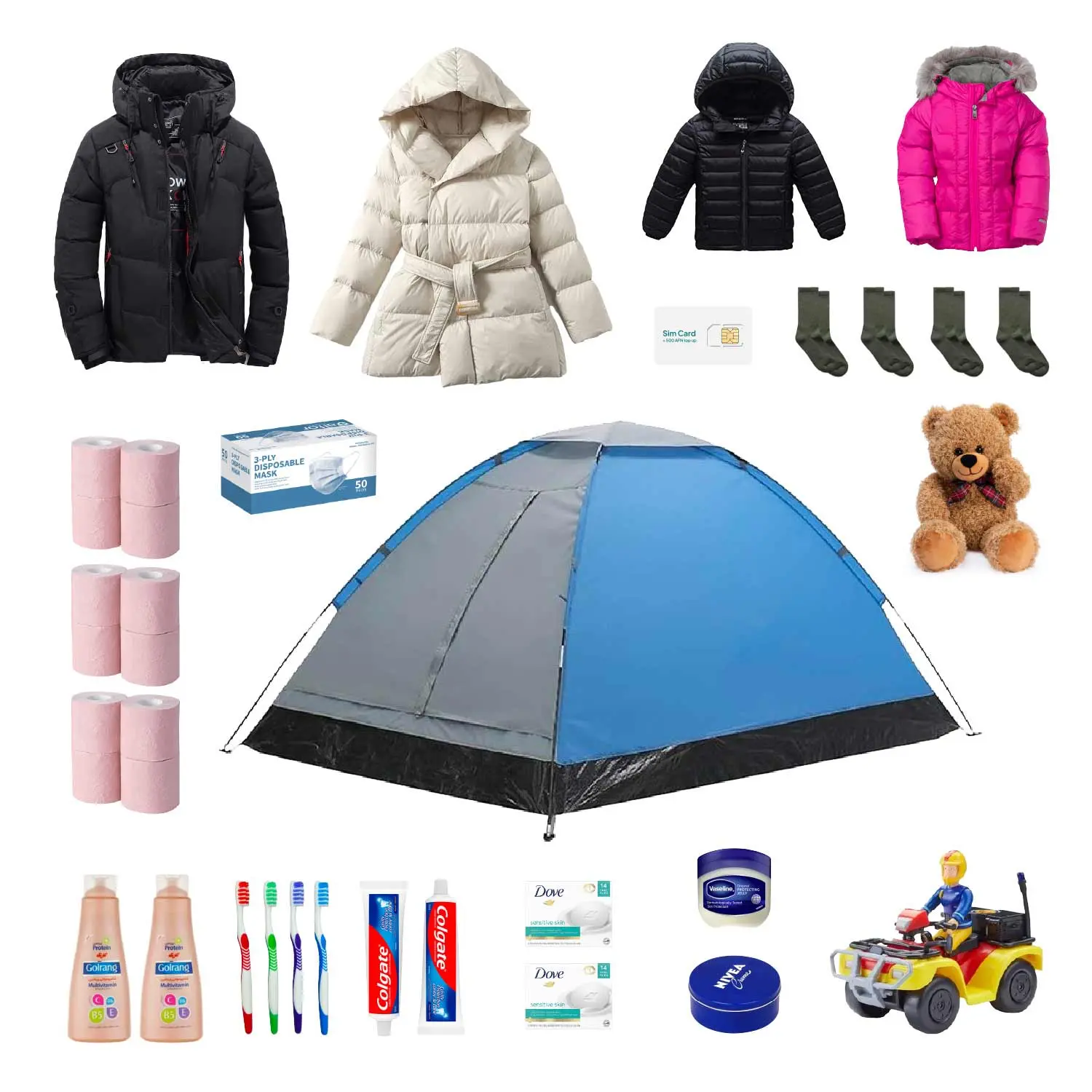 2: Welcome Kit Cash Package: As per Pakistan's regulations imposed on Afghan refugees, which limit Afghan nationals to carrying just 50,000 AFN in cash upon leaving, registered returning families will also get $50 in monetary aid to cover their basic needs.
How You Can Contribute
Aseel urges everyone worldwide to stand with Afghan returnees who are currently being forcibly deported. These vulnerable individuals desperately need our support during this challenging displacement and uncertainty. We encourage you to join us in making a difference by showing your support in various meaningful ways. Through any of the following ways, you can make a positive impact and provide the help and empathy that these Afghan returnees urgently require.
1. Donate: Visit Aseel Do Good website: www.aseelapp.com/returnees or you can download our app from (http://aseelapp.com/app ) and use our app and contribute to this cause, simply by donating the amount you can contribute to help them in this situation. In Aseel we believe and have experienced that, even the smallest amount can create ripples of change.
2. Volunteer: Join the Atalan Network to help identify, list, register, assign Omid IDs, prepare and distribute emergency packages to the deported families. Your active participation amplifies the impact of our collective efforts. Despite the efforts of the Atalan Network, the team needs more volunteers to join and directly engage. Interested ones, please contact + 93748106601 or go to this link: https://aseelapp.com/do_good/atalan.
3. Spread the Word: Using our social media accounts, We are closer than ever to get connected with the world and right people to contribute to this cause and be an excellent tool to disseminate information about Aseel's campaign, its aim, and its target audience. Post, share, and promote the message of this campaign with your friends in your community while encouraging them to share the campaign further.
4. Start a Campaign: Everyone is allowed to start a new campaign using the campaign page of Aseel for the Afghan returnees. All you need to do is fill out the form providing the relevant information.
In the face of ongoing humanitarian crises, natural disasters, and the recent forced expulsion of Afghan refugees, Afghans continue to endure immense suffering, finding no stability wherever they go. It is crucial to remember their plight and demonstrate our empathy through meaningful actions. Your compassionate efforts today have the power to bring smiles to the faces of thousands of Afghans stranded at the Pak-Afghan border. Let us make a difference through our cumulative actions, not just our words.
[Contribute to Refugee Aid Efforts - Donate Now]
About Aseel
Aseel is a tech-based startup company providing a digital platform that allows artisans to sell their antique handcrafted products and provide humanitarian aid to and from anywhere in the world with complete transparency. We believe in the practical use of the skills to build the positive change the businesses and communities need. The easy and user-friendly platform of Aseel supports thousands of makers by connecting them to global buyers. Transparency and privacy have always been the core values of our team. We are committed to supporting our clients through our secured and protected customer service page anytime.